Fish Heroes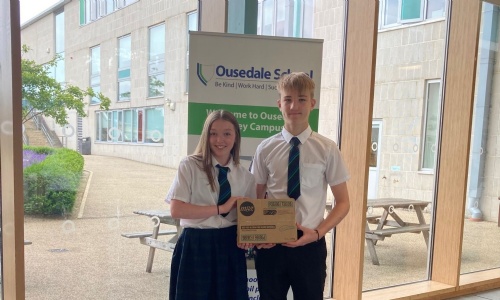 Food Preparation and Nutrition students took part in this year's 'Fish Heroes' scheme.
Some of our Year 10 Food Preparation and Nutrition students enjoyed working with fresh fish and developing their technical skills after a bid secured a donation of salmon fillets. The Fish Heroes Scheme was founded to encourage young people to gain practical insight into working with fish and creating fish based dishes.
Students researched and developed their own salmon recipes, creating time plans and ingredient lists. The dishes produced were wonderfully creative, and showed a fantastic level of skill from all students involved.
From Salmon en croute (making puff pastry from scratch), to handmade pasta with seasoned salmon, we had a wide variety of delicious looking dishes. There was a lovely aroma throughout the school and students thoroughly enjoyed tasting their creations.
One of our pupils said. "I really enjoyed making my salmon dish, it was an amazing experience cooking with fresh fish that tasted delicious!"
A huge thanks to the Fish Heroes Scheme for selecting our bid and giving the students this fantastic opportunity.