Ousedale PTA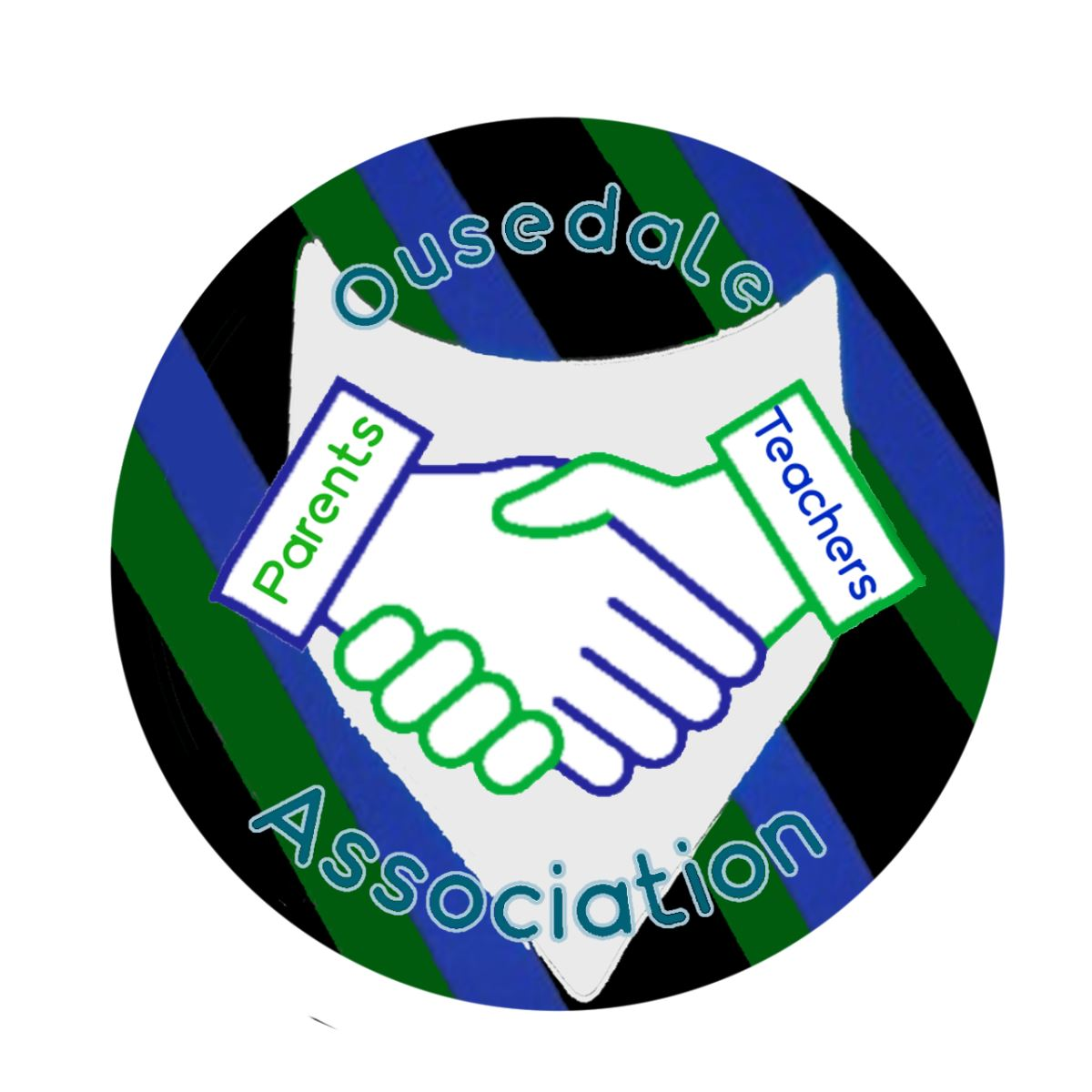 Welcome to the Ousedale PTA
Our objective as a PTA, is to raise funds and provide a link between the school and families to assist in ongoing improvements and initiatives to enhance our children's educational experience at Ousedale School.
How To Contact Us
If you would like to join the PTA; have any questions you would like to raise; or some amazing fundraising ideas, please feel free to contact us on PTA@ousedale.org.uk.
As this account is run by volunteers, please allow 5 working days for a response. If you have an urgent matter that needs attention, please contact the school directly.
Upcoming Fundraising
Non school uniform days:
Wed 27th March 2024 and Friday 19th July 2024.
The PTA are calling for donations to help families in need. Can you help?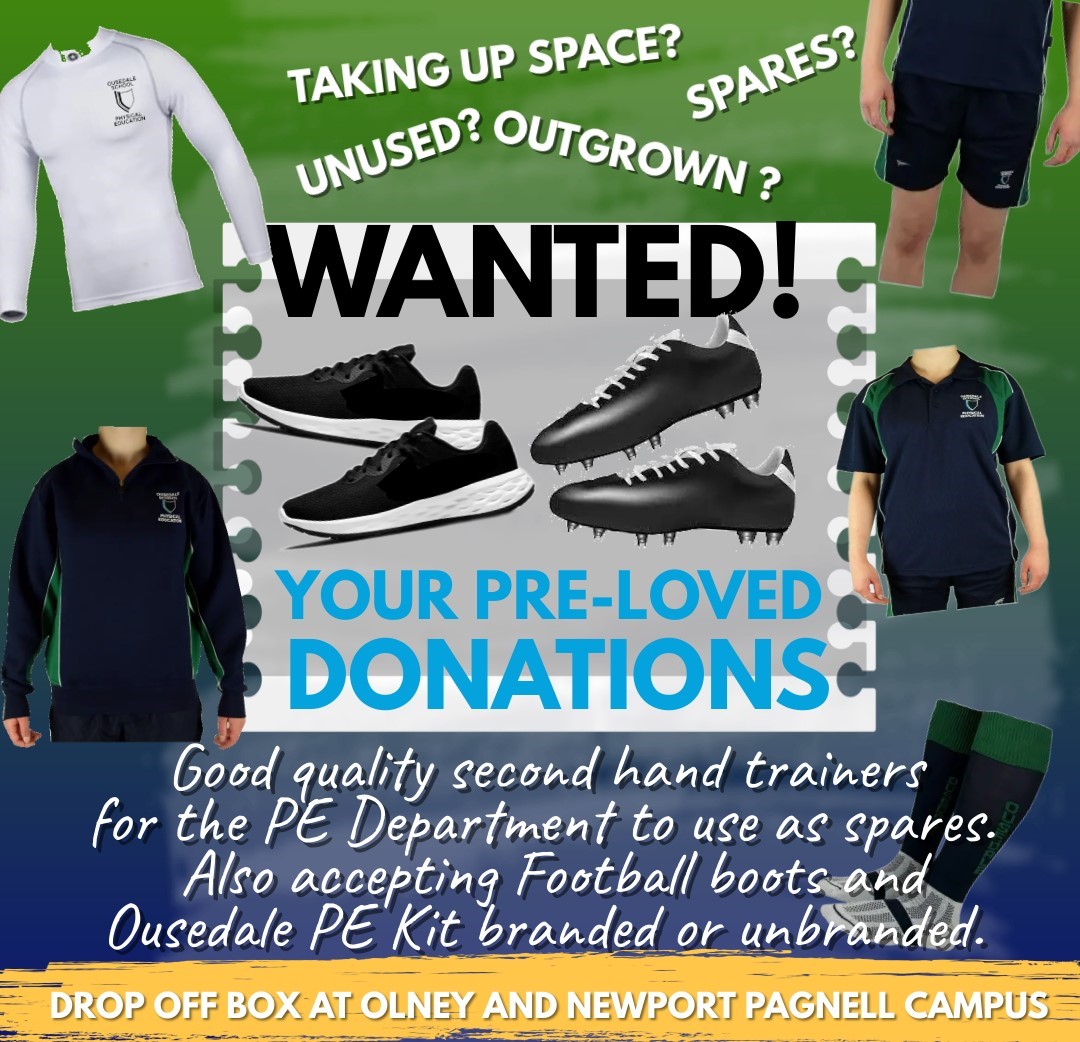 Important Dates
PTA Meetings:
20th November 2023 (AGM at Newport Pagnell campus)
15th January 2024 (Newport Pagnell campus)
12th February 2024 (Newport Pagnell campus)
11th March 2024 (Newport Pagnell campus)
15th April 2024 (Olney campus)
13th May 2024 (Newport Pagnell campus)
10th June 2024 (Newport Pagnell campus)
All meetings run from 18.30 - 19.30.
Please also check the school website calendar here for other key dates, such as; Parent's Evenings, Schools Photos etc.
PTA Minutes
To view the minutes from previous PTA Meetings, click on the link below:
Who We Are
Click on the link below to view a profile of the PTA members:
PTA Projects
Uniform Assistance - We have supported 7 families with uniform assistance, across both campuses.
Willen Hospice - We continue to work with local shops to collect uniform donations with a dedicated area set up in the school holidays. Uniform can be bought throughout the school year when available.
Cook-Away - We are proud to have supported the Newport Pagnell Food Tech team in providing these sessions to pupils in association with St Mark's Meals. This has been a huge success and we are looking to continue supporting this initiative, with the hope of it being extended to our Olney pupils too.
Winter Coats Collection and Redistribution - We were blown away with the support from our families and communities who donated. Most of the coats have been distributed at our Olney campus, but we still have some available at our Newport Pagnell campus, so please do get in touch with the relevant PAL if your child requires a warm coat this winter.
Department Bids
Departments submit funding bids with details of items required and why.
December 2022:
January 2023:
SEND Department – Items needed to help with self-regulation, and activities for lunch clubs and interventions. Cost: £305 Decision: Approved
DT Department – Revision guides and course books needed across all subjects within DT. Cost: £1035.72 Decision: Approved
PE Department – Two full sets of Football shirts for the Girls football team. Cost: £600 Decision: Approved
Fundraising Ideas
We are in the process of applying to become a charity, this will open up so many more opportunities for us to fundraise, so watch this space.
In the meantime, see below our most recent achievements in raising funds: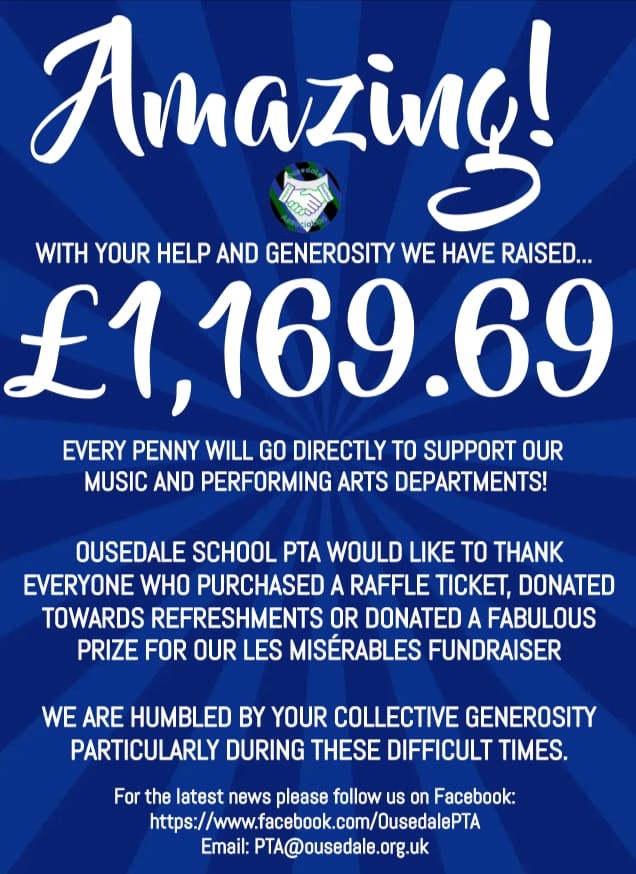 End of term pastries and ice lolly sale - July 2023 - We raised £625.00. With special thanks to Lantmannen Unibake for the pastry donation.
The Addams Family Raffle – October 2022 - Our wonderful families and the local community donated some amazing prizes for the raffle and the families that attended the performance, were very generous with their ticket purchases and refreshment donations. We raised an amazing £427.50 which was donated in full to our outstanding music department.
Right Move MK Thunder Ice Hockey – November 2022 - Amazing fun was had by all who attended, and we raised £240.87.
Please get in touch if you have any suggestions that we can add to our bank! pta@ousedale.uk