U13s Rugby Team Competes in Prestigious Northampton Saints 7s Competition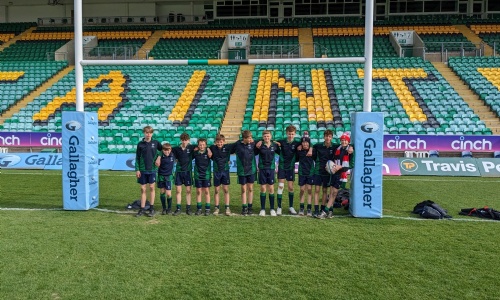 On Tuesday 18th April the U13s rugby team went to Franklin Gardens (Northampton Saints) to represent Buckinghamshire at the prestigious Northampton Saints 7s competition where 12 schools from 6 different counties competed across cup, plate and bowl competitions.
Our boys started the competition amazingly well going through as group winners after the first round of matches. This meant they could go on to compete for the top award in the Cup Competition against 3 other hugely successful and renowned school rugby teams. The Cup Competition included 4 teams in total; Northampton School for Boys, Bedford Modern School, Orwell Park, and Ousedale.
Our boys competed phenomenally well against each school but in the end were unlucky not to go through to the Cup's final match, which was played on the Saint's pitch within the stadium.
The boys had a fantastic day and represented Ousedale superbly, both on and off the field. They can also now confidently say they are in the top 4 schools for rugby in the East of England!
Huge thank you to all the parents that came to support the boys on what was a great day of rugby.