A Level Results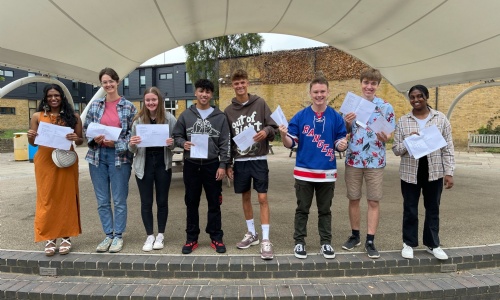 SUCCESS FOR OUSEDALE STUDENTS
Headteacher Andy Burton said "We are delighted to see the hard work of our students, and of course their teachers, rewarded in today's Level 3 A Level and Vocational results. It is important to remember that this cohort of students has overcome 3 years of unprecedented disruption to their education to take formal examinations for the first time in their secondary career having missed out on sitting their GCSEs. Despite this the overall results look incredibly encouraging with fantastic individual success stories for so many of our students. However, school is fundamentally about ensuring that our students are equipped with the necessary skills, characteristics and qualifications in order to progress onto the destinations of their choice. 75% of our Year 13 students have applied to study at university next year and have accepted their places or are in the process of confirming them today, and of these approximately a third are going to Russell Group institutions, including Oxford and Cambridge, to study courses ranging from Medicine, Veterinary Medicine, and Chemical Engineering, to English, Maths, Cyber Security, Civil Engineering, Economics and Law. Additionally, and just as importantly, we also have students progressing onto higher level apprenticeships at Mercedes; the Foreign, Commonwealth and Development Office; Price, Waterhouse, Coopers; Santander and RM Components.
Congratulations to all our Year 13 students, we wish them all the very best in their next endeavours and look forward to welcoming them back in years to come as alumni of Ousedale School."
Overall headline figures include:
75% of the cohort have applied to and accepted university places; a third are attending Russell Group universities
An increase in the number of apprenticeships being applied for and accepted by students
194 students took qualifications with the average grade achieved a B, this represents an improvement on 2019 which was the last time formal examinations were sat when the average grade was a C, and is in line with the centre and teacher assessed grades of the last 2 years
50 students achieved an average grade across all their qualifications of an A/A*
108 students, i.e. 60% of the cohort, achieved an average grade across all their subjects of a B or better
Whilst there are no progress or value added measures being published, we expect our results will show that students have made progress at least in line with their expected performance, indeed at least 16 students have made exceptional progress i.e. on average their results are more than 1 grade higher in each of their subjects than students nationally of a similar ability achieved in 2019.